For frequent travelers a travel bag is a basic necessity and choosing the best one that will last a long time is the top priority. It must endure all the dragging, tossing, kicking, stacking, being sat on and the changing weather. Having a sturdy and high-quality luggage doesn't come cheap but it's better to pay a high sum of money than suffer from the inconvenience later. Ask yourself a lot of questions while choosing a travel bag. Is the handle long enough? Does the suitcase feel sturdy and durable? Will the color and design fit my style? There are a lot of things to consider. So make sure to buy travel bag months before your trip. You'd want to test it out first and find faults beforehand so you can have it fixed or replaced.
Features
Traveling requires a trustworthy travel bag. Travelpro's spinner bag may be one of the best you can get. The bag is roomy with 25 x 18 x 11 inches dimension and lightweight at 10.1 pounds. It made from 100% polyester, covered with a water-resistant coat that protects it from abrasion and stains. A bottom tray stabilizes and aligns then wheels for stability. Along with the 360-degree spinner that rolls effortlessly in any direction, this bag is easier to maneuver than others. The bag's interior features a full-size lid compartment that allows different packing options. Travelpro has an in-house testing team that examines the luggage brands product with quality testing procedures. This attests the spinner bag's quality giving the consumer the best product they can get.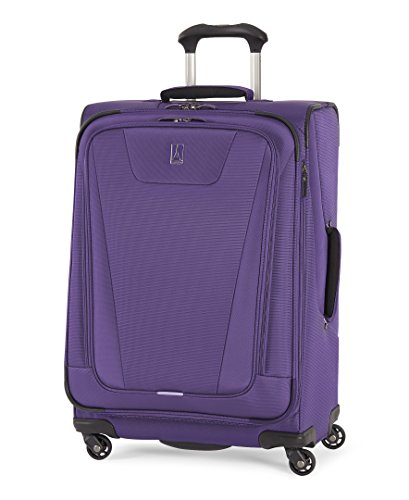 Pros
Very lightweight
Spacey
Great value
Durable zipper pulls
Cons
Not big enough for long trips
Limited lifetime warranty
Verdict
This travel bag is spacey (although it is fairly big for traveling, those who travel farther and longer might find this not big enough) and maximizes packing flexibility. The interior is strategically designed to be efficient, the lidded compartment, side mesh pockets, and adjustable hold down straps. It is surprisingly lightweight which makes it a practical (no extra fees!) choice especially if you have heavy things to bring with you. Pushing the luggage does not need much force because of the rubberized touch points that make pushing easier and more comfortable. The 4 spinner wheels are able to endure all surfaces and still roll smoothly without a problem. The patented contour grip and telescoping handles provide comfort that you never knew you needed. It's just a shame that such good thing only has a limited lifetime warranty.