There are a lot of travel bags to use when going to trips, from backpacks, duffel bag, and the traditional luggage. It may be hard to bring a big suitcase when you're only travelling for a day or two so most people opt for the duffel bag or the backpacks. For longer destinations that take over a few weeks, the traditional trolley bag is perfect. There are a lot of online stores like Amazon that sells travel bags of different sizes and styles, a great selection of different features. Other seller offers a suitcase set with different luggage and bag sizes. This one is the best option for those who travel often in different distances with varying days or weeks. No need to buy from different sellers.
Features
It's not just one, not two, but four! Caribbean Joe's spinner suitcase set consists of a tote, a carry-on, a medium and large bag. This 4-piece island inspired suitcase set and comes in two different colors (chocolate and olive) that complement even the most stylish travelers. The fabric is made from 100% weaved polyester material, sturdy and lightweight. It features 360-degree spinner wheels that allow smooth maneuvering,  a fully lined interior with pockets for an organized packing, an expandable 2 inches main compartment for extra luggage, and an upgraded telescopic push button handle system for a comfortable pushing, pulling, and holding. To further set your mind at ease, a 5-year warranty is included.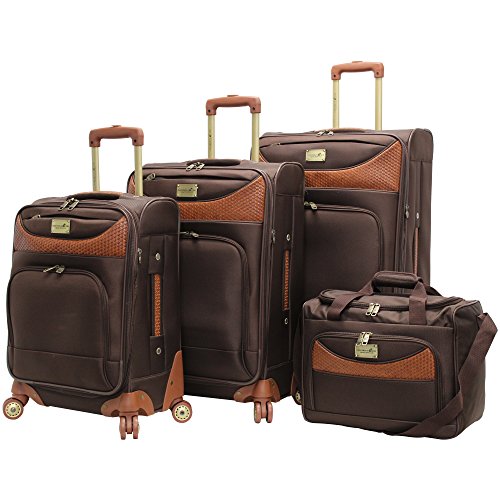 Pros
Lightweight construction
Fully lined interior
Dual zippers
5 years manufacturer's warranty
Cons
Limited color option
Thin handles
Verdict
The color and design are sophisticated and attractive, it has a very distinct color. The spinner wheels and handle worked excellently without any problems, it's strong and flexible. The customer service is helpful and responded quickly to concerns; they sent replacements for damaged or missing goods faster than you can say you wanted it. Having four of them together is easier than one might think; you can stack the cases and pull it all together. The set looks expensive but is actually affordable, a must have travel buddy for everyone who loves trips.