Picking the right suitcase can determine whether you'll have an amazing or bad trip. Travelling is tough on suitcases which why picking a good bag is important. Although it might cost a little too much than ordinary, it's going to be a great investment and will save you from a headache later on. So what does good travel bags have in common? Four wheels? Hard luggage? Roomy and lightweight? Recent studies narrowed it down into two. The most important thing to consider when buying a suitcase is the durability and wheel-ability. So the next thing you plan to buy a new piece of luggage for your trip, take a mental note of these things.
Features
This spinner bag is made of 100% polycarbonate construction, a solid material that bounces back the impact thus preventing cracks and making the trolley very lightweight. It is 29 inches high and 12.5 inches wide with nylon lining and deep metallic finish. The bag is offered in hard side or polycarbonate-made (emerald green, brushed charcoal, titanium, and cobalt blue) and soft side or polyester-made (platinum and cobalt blue) to fit into all your travel needs. A roomy bag is essential thus this spinner trolley's main compartment expands up to 2 inches, a great feature for packing souvenirs on return trips. The interior is fully lined with two sections, features an expandable middle zipper, and an integrated 3-dial TSA accepted combination lock. Maneuvering it is no problem with the double spinner wheels that keep no weight on the arm and comfortable handle system. For a convenient, secure, and comfortable packing, Delsey's spinner bag offers such travel bag features.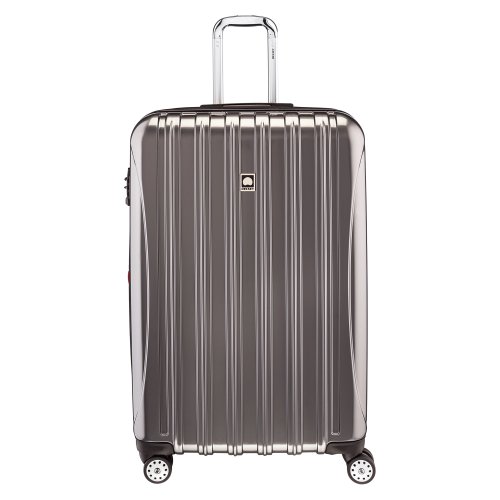 Pros
Lightweight and durable
Strong wheels
TSA approved locks
Expandable middle zipper
Cons
Can get scratched up easily
Zero padding for contents
Verdict
By using this travel bag, one doesn't have to limit packing. You can make use of its maximum capacity with the additional space of the expandable main compartment. There are two options for you to choose, the hard side with a 2 compartment split opening, or the soft side, with the single compartment and zippered lid pockets. Both are fully lined and large enough for all your travel necessities. The double spinner wheels run smoothly and silently without putting the weight on your arm. Another amusing feature of this spinner trolley is the TSA-accepted lock which allows only TSA agent to inspect your luggage (although this is only available for the hard side) hence you feel secure. A 10-year warranty is offered worldwide limitedly.